Whooly wars is a free to play mobile game I
Art-Directed
during a Game Design & Development minor.
This game is about leading your own clan of little cavemen-furballs in a rebellion war against other tribes, to save and unite the land. It's aimed at children 8-14 years old, and meant to
engage them in prehistorical (fantasy) topics in a playful way
!
Synopsis:
'A hundred years ago, all the Whoolies lived in peace, but all of this quickly changed when the beloved king William III died. There wasn't a new king lined up to lead them since king William III never had any children. The chaos quickly spread through Whoolyland and different leaders arose to lead their clans of Whoolies. All these leaders started leading their realms, to fight the remaining Whoolies of Whoolyland that didn't want to join them. It is up to you to save the Whoolies of Whoolyland and to bring back the peace they used to live in.
Fight all the kings of the other realms and bring back Whoolyland to its original state'
Logo made for our small studio of 5 students.
Next is a storyboard concept, as an introduction for the game. Did not make it into the game because of time-constraints.
I helped work on the concept of the characters, and my awesome co-artists Sera created our goofy and loveable Whoolies from them! 
Arguably my best work in this whole project is found here: the backgrounds! 
They were an
absolute joy
to make, and I treasure them very much.
The background for our last level; the Crystal Cave, was scrapped due to time-constraints, will be added in the future!
OTHER work on this project
Powerups available in the game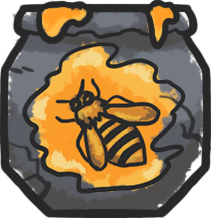 All was not possible without the help of my great team!
Cees & Jasper
for Developing our game and fixing countless bugs in Unity,
Marinda
for Designing the experience for our users and gracing us with her flawless fashion-sense,
Sera
for putting up with all my perfectionism surges and being an awesome co-Artist!